Wheel cap Mercedes Benz Oldtimer Ponton
The term "Ponton" describes a body shape of a Mercedes 180 from the year 1953. The Mercedes 180 was a large series car, which was developed completely new in the post-war period. The distinctive fenders, the running boards and the arched luggage flap remained on the track. But one thing had also been preserved for the 180 Mercedes - the wheel cap Ponton with the unmissable world-famous Mercedes star in the middle.
Also today the Mercedes Ponton is very popular as an oldtimer and in great demand among collectors. Every now and then enthusiastic collectors of Ponton models meet to show their "treasures". At these meetings a lot of attention is paid to the wheel cap Ponton. The Ponton Mercedes simply offers an unsuitable picture without it. Especially optically the wheel cap Ponton is much more effective than a wheel cap that was not made for a Ponton model.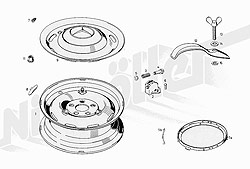 Of course it is also possible to mount the Ponton hubcap on other vehicles. The problem here lies in the purchase of a wheel cap Ponton. Either one gets it as a whole, that is, only in connection with the Mercedes 180 Ponton, or in auction houses for much money and often strongly damaged. Here only a complete restoration of the Ponton hubcap, including a new paint job, can help. For this painting a painting star is absolutely necessary and a certain experience. Sometimes trained painters do not dare to use the Ponton wheel cap.
If you want a visually perfect result, this painting should really only be done by someone who has the necessary craftsmanship skills. Of course it can also be painted without a painting star. For this it must be completely and cleanly masked. The clean masking takes a lot of time and patience, but it is definitely worth it. Depending on the choice of external colour for the Ponton wheel cap, the primer should also be chosen. A dark primer should be chosen for a dark exterior colour. If you choose a light primer here, it can happen that it is visible at the edge afterwards.
Another possibility for the purchase of a wheel cap Ponton we are at Niemöller. We sell spare parts as well as wear parts of all Mercedes models worldwide. The selection of spare parts is really another advantage of our company Niemöller. And the spare parts are guaranteed genuine Mercedes spare parts and our employees are at your side with advice and action.