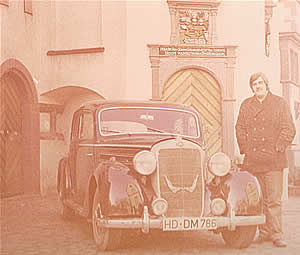 Heinrich E. Niemöller
A rise from the ranks ...
More than 20 years in spare part business are cause enough to give our interested customers some insight in our development and prospects in words and pictures.
With every purchase of a classic car a story begins ...
... in some cases we assisted to write them and during this time we established the most comprehensive reproduction program in the market.
Spare parts for Mercedes-Benz classic cars - the Adress No. 1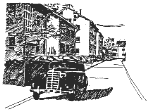 July 6, 1970
Purchase of Mercedes Sb 1952 model in Dossenheim (near Heidelberg). The 170 offered a very solid driving experience. First contacts were made to the Ifam (community of interest for old Mercedes vehicles) and to the slowly growing MVC (Mercedes Veterans Club).
October 1971 - April 1972
Driving was not enough. The first hobby garage in the backyard was established in Mannheim-Neckarstadt, Eichendorffstr. 39, together with my university friend Karlheinz Stoppel. I changed university subjects from mathmatics/physics in Heidelberg to mechanical engineering in Mannheim.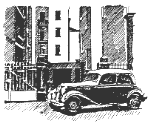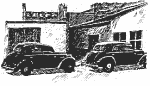 May 1972 - September 1972
Together with K. Stoppel I moved from the backyard garage to a larger place in Mannheim-Jungbusch, Jungbuschstr. 34. We repaired cars of various brands and collected experiences.
October 1972 - December 1975
Second move with K. Stoppel to a larger garage in Mannheim-Sandhofen, Deutsche Gasse 17. From 1973 to 1975 I started restoring 170 models as a hobby first and soon learned about the difficulties of finding spare parts. After Martin Eckert and Viktor Richel joint us as "garage partners" our place was getting to small again.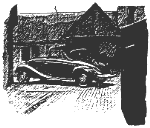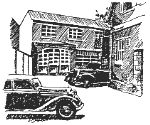 January 1976 - March 1979
Third move with K. Stoppel to Mannheim-Sandhofen, Untergasse 6. On May 6, 1976 I finished my studies. I intensified the spare part business and registered for commercial enterprise on September 22, 1976. In 1977 we spent a difficult year in building up the business. In March 1978 the first comprehensive product list 1/78 for 170 - 220 models was published. Our stock capacity of 100 square metres was getting to small.
April 1979 - December 1981
Fourth move to Mannheim-Sandhofen, Schönauer Str. 16. Together with the external stock in Mannheim-Scharhof, also used for dismantling, I was in charge of 400 square metres of space for office, stock and garage. After the 180, 190, 190SL and 220S models were added to our product range (catalog C), the fifth move became neccessary.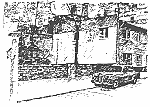 From January 1982
This fifth move was tough. It took 72 mini-truck loads within 40 days to transport spare parts and stock equipment to Boeckstr. 5 in Mannheim-Jungbusch. But soon, this space of 900 square metres proofed as to small again. Therefor several external stocks (Beilstrasse, Boeckstrasse16/18 and Friesenheimer Insel) were additionally rented. All together our stock and office space added up to 2350 square metres. But even this was not enough to cover the needs of the space required by the A, C, D, and F generations. So we planned to build our own place in 1987.
From December 1, 1987
This sixth move will be our last. 3400 square metres of office and stock space originated from the first stage of construction, another 3000 square metres can be added in a second stage of construction in the 90s on demand. We are now able to stock and quickly deliver 50.000 to 70.000 different spare parts.

Our history goes on
In January 1991 we took over the essentail factory parts of Kaldewey, Berlin. This includes quality body panels, moulded rubber parts, rubber mats and heater chanels, spring cores, aluminium brake shoes and much more.