The Niemöller History - Mercedes Oldtimer Spare Parts Trade Successful from the Start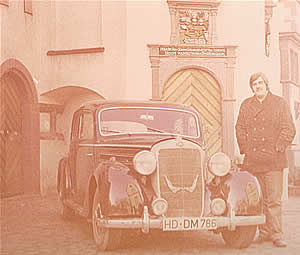 Heinrich E. Niemöller
from the ground up ...
Half a century of successful spare parts trading for Mercedes classic cars is reason enough to document the Niemöller history in words and pictures.
The story begins with the purchase of a classic car...
...many a one we have helped to write, and during this time we have realised the largest remanufacturing programme on the market.
Spare parts for Mercedes-Benz veterans. The 1st address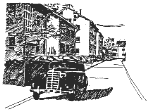 6 July 1970 - Purchase of a 170Sb classic car
It all started with the purchase of a 170Sb vintage car, built in 52 in Dossenheim near Heidelberg. Today's managing director Heinrich E. Niemöller made his first contacts with the Ifam (interest group for old Mercedes vehicles) and the slowly emerging MVC (Mercedes Veterans Club).
October 1971 - Establishment of a hobby workshop
Driving alone was not enough. Heinrich E. Niemöller started restoring 170s as a hobby and founded a small hobby workshop in a backyard garage in Mannheim-Neckarstadt, Eichendorffstr. 39. He changed his studies from mathematics/physics in Heidelberg to mechanical engineering in Mannheim.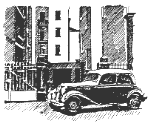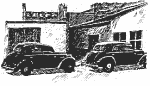 May 1972 - Establishment of a repair workshop for various car brands
First joint move with K. Stoppel from a backyard garage to a larger one to Mannheim-Jungbusch, Jungbuschstr. 34.
Cars of different makes are repaired and experience is gained.
October 1972 - Start with Mercedes restoration
Second move with K. Stoppel to a larger workshop in Mannheim-Sandhofen, Deutsche Gasse 17. In the years 1973 - 1975 I start restoring 170 models as a hobby and learn about the difficulties of procuring spare parts. After adding two more workshop partners, Martin Eckert and Viktor Rickel, the workshop becomes too small.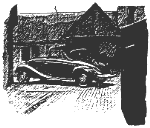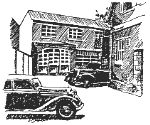 January 1976 - Intensification of the classic car spare parts trade
Third move with K. Stoppel to Mannheim-Sandhofen, Untergasse 6. May 1976: Completion of engineering studies. Intensification of the spare parts trade and registration of a business on 22.9.1976. 1977: A difficult year of development. March 1978: Publication of a first larger offer list 1/78 for the 170-220 models. The storage rooms of 100 m² become too small.
April 1979 - Move to workshop in Sandhofen with 400 m² area
Fourth move to Mannheim-Sandhofen, Schönauerstr. 16. With the external warehouse in MA-Scharhof, which is also used as a stripping workshop, I now have 400 m² of warehouse, office and workshop space. After the 180 - 190 - SL - 220 S models are added to the range (catalogue C), a fifth move becomes necessary.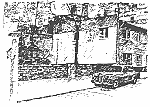 January 1982 - Further enlargement of the workshop to 900 m²
This fifth move took a lot out of us. 72 small truck loads in 40 days were needed to transport spare parts and shelving equipment to Böckstr. 5 in Mannheim-Jungbusch. Very soon the 900 m² proved to be too small, so that the external warehouses "Beilstraße", "Böckstr. 16/18" and "Friesenheimer Insel" nearby had to be added. At the moment we have 2350 m² of storage and office space. But in the long run, this will not be enough to cover the space requirements of the space-demanding A, C, D and F generation, which is why a new building is planned for 1987.
December 1987 - Relocation and construction of further storage space
The sixth move will be our last. In the first construction phase, 3400 m² of storage and office space will be created, approx. 3000 m² can be added in the 2nd construction phase in the 90s if required. We will then be able to store 50,000 to 70,000 different spare parts and deliver them quickly.


1990 - Trade with own products
In 1990, we started trading so-called own products. Mercedes classic car spare parts are often difficult to obtain, either the car parts are no longer available or the original Mercedes parts are simply too expensive. We therefore offer our customers the opportunity to purchase functionally identical replica parts from international manufacturers as well as German and, for the most part, European manufacturers.
January 1991 - Takeover of the Mercedes spare parts trading company Kaldewey
With the takeover of the essential parts of the Kaldewey company from Berlin in January 1991, we continue our success story in the Mercedes spare parts trade. From now on, part of our own products will be manufactured in Berlin. These include rubber mats, moulded rubber parts and air ducts as well as quality sheet metal parts, aluminium brake shoes and much more.


May 2004 - Niemöller goes online
With the birth of the Niemöller online shop in 2004, we write a special milestone in our history. Today, online trade is the most important building block of the Niemöller spare parts trade, with which we generate the largest part of our turnover. With this, we have not only achieved Europe-wide recognition. Niemöller.de is one of the top addresses in the Mercedes classic car spare parts trade worldwide. For our "Print Oldtimer Veterans" and new customers who explicitly want a catalogue, we still print print editions. However, the catalogue business is steadily declining and giving way to the rapidly growing online trade.
15.07.2013 - Birth of Niemöller, Ersatzteile für Mercedes-Benz Veteranen e. K.
With the appointment of our long-time employee Levent Karabay as authorised signatory, the company Heinrich Niemöller is simultaneously renamed Niemöller, Ersatzteile für Mercedes-Benz Veteranen e. K. In addition to his function as trainer and executive manager for the further development of the remanufacturing strategy, Mr Karabay is responsible for conceptual questions regarding online trade and the internal organisation.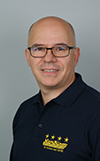 August 2014 - Milestone Niemöller Profile
With the acquisition of Seidel Profile, today Niemöller Profile, we have reached another decisive milestone in our history of classic car spare parts. Together, niemöller.de and gummiprofile-oldtimer.de distribute 64,000 different spare parts assortments, of which more than 1,600 different articles are stored in an area of approx. 3,000 square metres. These include the top sellers, which mainly include Mercedes air ducts, Mercedes fuel pumps and 50s components.
August 2018 - Internationalisation of the online shop
In order to meet the increasing demand of foreign customers and to be able to offer our service Europe-wide and worldwide, we are gradually internationalising the spare parts online trade. After English in August 2018, the Niemöller Shop will be translated into Spanish, Italian and Dutch in 2019. It should also be mentioned here that we generate 60 % of our turnover from foreign sales.


Today, we are the most important full-range spare parts supplier for all Mercedes classic cars and youngtimers built between 1946 and 1985. All spare parts for the 28 different models of this period are listed and documented in six catalogues. We supply everything that is still available anywhere. From engine and chassis spare parts to brakes and interior fittings. You can even get original upholstery fabrics.
Today, Niemöller employs an expert team of 7 sales staff in service and customer care. The personal support of our customers is very important to us. This is proven by the long-standing loyalty of our regular buyers - Niemöller History - we for classic car and youngtimer fans!