Pagoda soft top cover
Mercedes Benz Oldtimer spare parts
Cabriolets are naturally a beautiful thing in summer. Especially if it's a vintage car with a pagoda roof. The term "Pagoda" was called this way when designing the hardtop because it has the shape of a Far Eastern temple. Now it is with oldtimers or also with other pagoda roofs in such a way that they become unsightly in the course of the years. Or you have bought an older convertible at a good price and only have to repair the convertible top. Which canopy cover do you take now?

The Pagode soft top cover should of course also match the quality of your car and be of very high quality. You can get a Pagode soft top cover at almost all saddleries. Here you should not save at the wrong end. Of course there is a cheap Pagode top cover to buy. Often, however, the quality of cheap variants falls by the wayside. You do not have a reasonable thermal insulation, the color of the canopy cover fades very fast and is possibly not very weatherproof.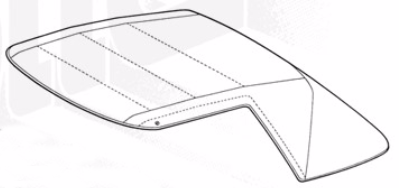 Only one quality comes into question for the Pagode soft top cover. The Sonnenland fabric offers very high quality and extremely good workmanship. Characteristic is the light waffle pattern on the inner skin. The outer part is covered with a three-layer soft top fabric, which is very dimensionally stable as well as light and weather resistant. For processing, the highly lightfast polyacrylonitrile is used, which should also be known under the name "Dralon". The waterproof intermediate layer consists of synthetic rubber. The inner part is covered with the textile waffle pattern.
The Pagode soft top cover is not bound to the classic colours such as black, blue-green for the tinted rear window. Here you can also choose between dark grey, light beige or a Bordeaux red. These variants are particularly recommended for pagodas, as they also enhance the appearance of the vehicle.
The Pagode soft top cover can also be installed by laypersons. The disassembly of the old soft top cover results in the individual assembly steps. However, if you want a really perfect final result for your Pagode soft top cover, you should have it done by an experienced car upholsterer. Often, tops, which were made in self assembly, show folds and within shortest time the so-called donkey ears show up by folding back the top, because the assembly was not carried out millimeter-exactly and the top was not sufficiently stretched. You can avoid this by using professional help.
We at Niemöller have the Pagoda soft top cover in our assortment. With a reliable, worldwide delivery and an extraordinarily large assortment, we at Niemöller can fulfil almost all the wishes of a classic car enthusiast.