Catalog A Mercedes-Benz classic cars spare parts
Model 170-220
Presentation of Catalog A
Catalog A contains on 160 pages a detailed collection (see construction models) of spare parts for Daimler Benz cars from the post-war generation, lots of them with pictures. The catalog contains completely - exactly in the order of the original spare part catalogs - all parts for the models 170 - 220.
The catalog, which already reached a circulation of 25.000 pieces, is a "must" for every owner of a Mercedes classic cars.
The catalog A in hard copy is out of print and can be obtained by free download only.
Two examples from Catalog A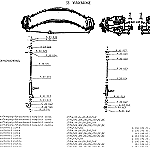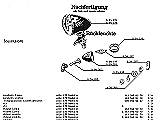 The fact that a spare part is listed in our catalog does not mean it is available. The catalog is intended to be valid in the long term. Therefor it shows no prices, but order numbers only. Availability and price information can be obtained from the current pricelist containing more than 63.000 articles.
Catalog A contains the following construction models
Current number / sales description
Chassis
model
Motor
model
Built
from - to
Built
quantity
Literature
reference
1.

Mercedes-Benz 170V

136.010
136.920
6/46 - 5/50
25414
A99001
2.

Mercedes-Benz 170Va

136.060
136.923
5/50 - 4/52
20471
A99002
3.

Mercedes-Benz 170Vb

136.060
136.923
4/52 - 9/53
3482
A99003
4.

Mercedes-Benz 170D

136.110
636.915
5/49 - 5/50
3712
A99004
5.

Mercedes-Benz 170Da

136.160
636.916
5/50 - 4/52
19456
A99005
6.

Mercedes-Benz 170DaOTP

136.174
636.916
5/50 - 4/52
530
A99006
7.

Mercedes-Benz 170Db

136.160
636.916
5/52 - 10/53
10655
A99007
8.

Mercedes-Benz 170S

136.040
136.922
5/49 - 2/52
26331
A99008
9.

Mercedes-Benz 170SAC

136.042
136.922
5/49 - 2/52
830
A99008
10. Mercedes-Benz 170SBC
136.043
136.922
5/49 - 2/52
1603
A99008
11. Mercedes-Benz 170Sb
191.010
136.922
1/52 - 8/53
8094
A99010
12. Mercedes-Benz 170DS
191.110
636.918
1/52 - 8/53
12985
A99011
13. Mercedes-Benz 170S-D
136.181
636.931
7/53 - 9/55
14887
A99012
14. Mercedes-Benz 170S-V
136.081
136.926
7/53 - 2/55
3122
A99013
15. Mercedes-Benz 220
187.001
180.920
4/51 - 5/54
16154
A99014
16. Mercedes-Benz 220AC
187.012
180.920
4/51 - 8/55
1363
A99014
17. Mercedes-Benz 220BC
187.013
180.920
4/51 - 8/55
997
A99014