Rear axle cuff hinged door
Spare parts for Mercedes-Benz classic cars
A rear axle collar for hinged doors is essentially a so-called bellows.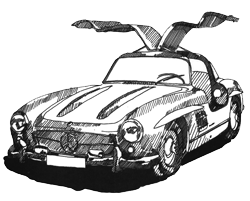 This is usually made of a flexible material such as rubber or plastic. The main function of the axle boot for hinged doors is to protect the drive shaft.
This is exposed to high loads due to the transfer of large amounts of kinetic energy. The heat energy is dissipated by appropriate lubrication and the friction that occurs is minimized. In order to protect this system, which only becomes functional over longer periods of time due to lubricants, from harmful external influences, front and rear wheel cuffs are used in automotive engineering.
A counterpart to the modern rear axle cuff is a variant, which can still be found to a large extent in older off-road vehicles such as jeeps. In these vehicles, the joint elements are replaced by a spherical shape.
The ability to move now comes about through a precisely shaped counterpart.
This is connected by the drive shaft. The connection, which is created by a negative partial form of the joint ball, is thus linked to the actual movement element. In this way a closed but nevertheless movable system is created.
In the case of a rear axle cuff with hinged doors, as with other car models, conventional front and rear axle cuffs must be replaced regularly.
These are wear parts that wear out over time. Wearing of a rear axle sleeve for hinged doors is primarily indicated by material defects, i.e. cracks in the rubber or plastic.
If you do not replace the rear axle sleeve of the gullwing door, serious damage can occur to the valuable gullwing door. Damage to the drive technology of the gullwing door is certainly much more costly than the relatively simple replacement of a rear axle sleeve.
We at Niemöller are specialized in these and other spare parts, which accumulate in the range of the wear components at vehicles, particularly with the mark Mercedes Benz.
We are mainly looking for rear axle cuffs gullwing doors. The best known representative of the gullwing door models is the Mercedes Benz 300 SL. This made the hearts of automobile enthusiasts beat faster at an early stage. However, the search for suitable spare parts is becoming more and more difficult for people who still want to move these automotive treasures. For this we offer the appropriate remedy.