Bow decoration gullwing Mercedes Oldtimer 300SL
A very rare but very impressive variant of the cars is the so-called winged door. With this vehicle the doors are not simply opened to the side, but impressively upwards. If both doors are open, it almost looks as if the vehicle has spread its wings to be able to take off at any moment.
With this gullwing door you can be sure to attract a lot of attention. Whether it is a vintage car or a very new gullwing door. This variant of the oldtimer is very popular, because unfortunately there are not very many oldtimer models of the gullwing doors. You must be very lucky to get such a rarity.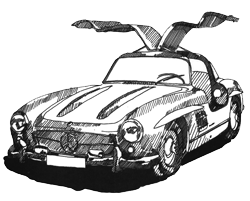 Many classic cars are simply forgotten in the garages and discovered only by chance. If you were lucky enough to acquire such a vintage car, you will certainly have a lot of work to do to restore it to its original condition. A special eye-catcher with an oldtimer of this kind is the bugverzierung gullwing doors. It is just as much a part of the gullwing as the gullwing doors. Without the gullwing front trim the look would not be as perfect as it should be, something very important would be missing here.
Before you start chrome-plating the vehicle, you should always adapt the front mask to the vehicle. If the bow ornamentation on the gullwing door is still present, it should first be refurbished. A specialist workshop should be consulted for the reconditioning of the gullwing door front trim and for the chrome-plating of the vehicle. Of course, there are numerous chrome plating companies on the market that also offer their work at a very reasonable price. But with such a model you should not save at the wrong end and give the bow decoration gullwing doors to a specialist in the hand, who will cost a little more, but also does a perfect job for it.
If you have purchased an oldtimer with a missing bow ornament on the gullwing door, this is not a big problem either. Our company Niemöller sells all spare parts of Mercedes models of any kind and is also at your disposal for chrome plating. A gullwing door without the bow decoration does not look half as exciting as the model bow decoration gullwing door.
The intention of the manufacturers with the origin of the bow decoration of gullwing doors becomes clear on the basis of the bow decoration, since one can recognize immediately the mark of the car by it. Not to forget the unusual optical design. And at Mercedes it is the "star" that impressively takes over the front decoration of the gullwing door.