Rear axle cuff Ponton

Are you looking for a "rear axle cuff Ponton"? With us you are at the right place! In our online shop you will find classic car spare parts for many Mercedes-Benz models.
The Mercedes-Benz Ponton
A particularly popular classic car model is the Mercedes-Benz Ponton. "Ponton" actually refers to the shape of the body ("Ponton shape"). The Ponton body is a car body with smooth sides, smooth vehicle flanks and rounded shapes. The Ponton shape was particularly popular in the 1950s. Especially the MB 180 or Mercedes-Benz W120 stood out at that time, which is why it is still known today under the name "small Ponton Mercedes".
Use of the rear axle cuff Ponton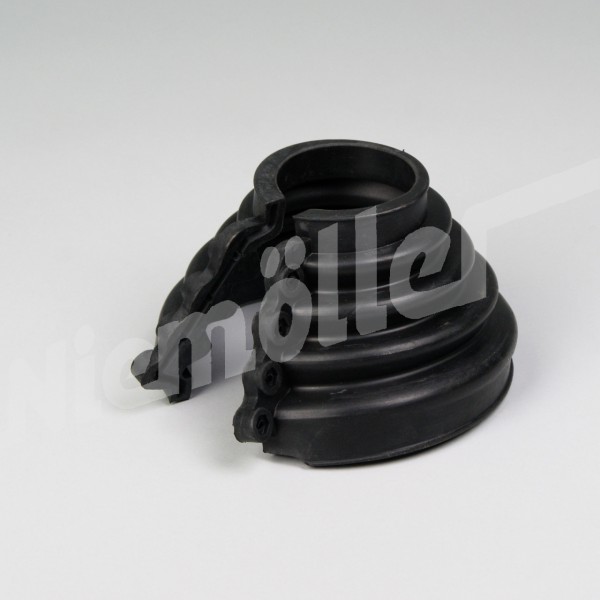 The rear axle cuff Ponton has the task of covering the homokinetic joints of the drive shaft and thus protecting them. For this purpose, the rear axle sleeve has a so-called bellows, which can be made of rubber or plastic. Thanks to its flexibility, it moves with every steering movement.
Rear axle boots are wearing parts
Rear axle boots are vehicle parts that are frequently affected by wear, not only on the Mercedes pontoon. Rear axle boots often tear during driving due to heavy loads. Then it can happen that grease, which is used to lubricate the axle joints, is ejected. This in turn has the consequence that moisture and dirt can penetrate and the joint is destroyed by rust. At the latest, if escaping grease is thrown onto the brake discs while driving, a defective rear axle sleeve can represent a clear safety risk and must be replaced urgently!
Buy rear axle cuff Ponton
Would you like one buy rear axle cuff Ponton? No problem! Discover our wide range of MB Oldtimer spare parts in our Niemöller Onlineshop!