Kingpin set Ponton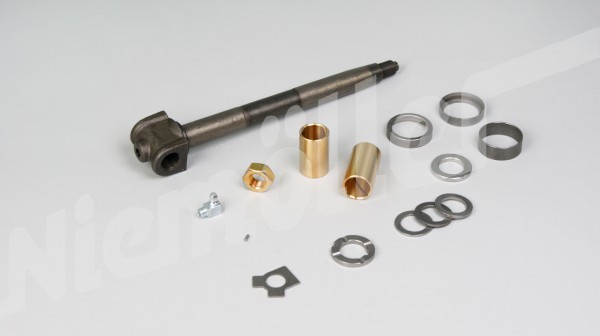 If you are looking for a "kingpin set pontoon", you have come to the right place! Discover our large selection of Mercedes-Benz classic car spare parts in our huge online shop!
Mercedes Ponton
Behind the name "Mercedes Ponton" lies the model W 120 or W 121. This Mercedes-Benz was launched on the market in 1953 and replaced the W 136. The word "Ponton" refers to a bridge girder (French "Pont" = bridge) whose shape resembles the very linear pontoon body. The W120 was the first Mercedes-Benz passenger car model to have a self-supporting body. This was particularly conspicuous by the car body, which had smooth side parts and no attached fenders or running boards. The word "pontoon body" is also used for passenger car models of other manufacturers with the characteristic rounded shapes from the 1950s. The Mercedes-Benz W 120 is still known to many today as the "small pontoon Mercedes", which further underlines its cult status.
The kingpin set
The kingpin is an important component in the steering system, which can be replaced and repaired with the help of a set of kingpins. The steering knuckle is a further development of the so-called turntable steering and is used in almost all automobiles. The special thing about stub axle steering is that the outer parts that carry the wheel are no longer rigidly attached to the front axle, but can be swivelled. If the steering knuckle pin is loose, the front ratchet begins to flutter, which can lead to the vehicle being moved into curves, i.e. it drifts outwards. Since this can be dangerous, the kingpin must be changed.
Buy kingpin set Ponton
If you want to buy a "Ponton kingpin bolt set" "Ponton kingpin bolt set", you have come to the right place. At Niemöller you get accessories not only for the Mercedes-Benz Ponton, but also for many other Mercedes Oldtimer models! If you have any questions about the products in our online shop, we will be happy to assist you.