Radiator fairing Mercedes Oldtimer dash Eight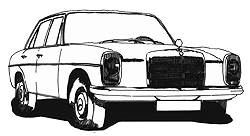 Mercedes dash Eight: a legend, cult and pure driving pleasure to this day. Striking in the line, this heavy sedan impresses you with its heavy, chrome-plated door handles, window surrounds and ventilation covers. The two outer rear-view mirrors and all window frames are chrome-plated. But that's all quite little against the massive radiator cowling dash eight. The star, which is also chrome-plated, is enthroned on it.
It is this radiator cowling, which floats upwards with a slight effort when the bonnet is lifted, that gives this automobile its unmistakable identity, is an expression of quality and enduring durability. The dash eight radiator cowling is equally a symbol of a Mercedes, the high standards of technology and the design of this brand.
When you drive the dash eight, you are sitting on a wide, leather-trimmed seat, already in the standard version, with a gear lever behind the voluminous steering wheel, which accommodates a chrome-plated lifting ring inside. An indispensable landmark for you as the driver is the Mercedes star, which stands vertically on the radiator panel dash eight.
You can also see the wide foot of the dash eight radiator cowling, which protrudes into the bonnet and on which the star is centered, from the driver's seat. The dash eight radiator cowling and the Mercedes star form an unmistakable unit.
If you are now interested in the cooler cowling dash Acht, our Mercedes classic car spare parts shop is exactly the right place to go for you. Here you get a large selection of spare parts and are advised in each case in the best way.
You can save the stress and insecurity of an auction house and don't have to pay the proud prices of the Mercedes factories. At Niemöller you will be helped quickly and easily to restore your Mercedes line eight to its former glory.