Hubcap Mercedes Oltimer 220s
For classic car fans, there is nothing better than to purchase one of the favorite models and then prepare it with a lot of love and patience as it originated. Popular classic car models are the older Mercedes models. This comes from the good workmanship in the creation of these models and from the many possibilities to repair one of the Mercedes models again.
The hubcap 220s is a feast for the eyes and is not seen as often anymore. In former times, when almost all vehicles had the wheel cap 220s, this was probably nothing special, in contrast to today. Today the hubcaps are more modern and sometimes nothing special. But the hubcap 220s with its large star in the middle still attracts a lot of attention today.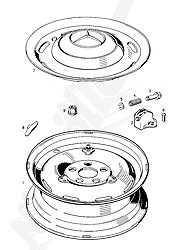 A large exchange of experiences takes place in the Internet forums about classic cars. Oldtimer fans and those who want to become fans exchange their experiences. A much discussed topic is also here the wheel cap 220s. There are tips on where to buy it, how to maintain the hubcap 220s and, of course, how to mount it. So a Mecca for the classic car fan par excellence.
The old Mercedes models also attract a lot of attention at vintage car meetings. Here, too, every little detail is examined. Modern hubcaps don't stand a chance here under the critical eyes of classic car fans. It must be the wheel cap 220s. Only then the restorer gets the recognition of his friends for the successful restoration of the vehicle.
The wheel cap 220s is a more difficult to replace part of the old Mercedes series. In most cases it is not even available or it is so damaged that a restoration is no longer possible. In this case you can only hope that you can find an appropriate spare parts dealer. Some people try to buy the wheel cap 220 S at various auction houses in the hope of getting a bargain.
Our company Niemöller distributes the original spare parts of Mercedes oldtimers worldwide. We have specialized in old Mercedes spare parts and there is almost no spare part or wearing part, which we can not provide you.