Kingpin set 220 S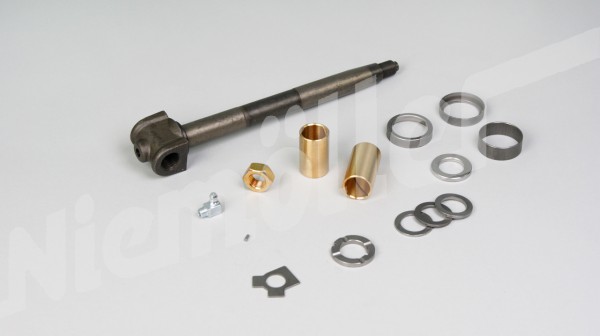 You searched for "kingpin piston set 220 S"? In the Niemöller Online Shop you will find spare parts, such as the steering knuckle piston set for the Mercedes Benz 220 S, as well as many other classic car spare parts. If you own a vintage car, maintenance and repair are of course particularly important to you. The same goes for the Mercedes-Benz 220 S, of course. The classic car from the late 50s makes many a collector's heart beat faster. Accordingly, it is important to maintain the driving ability and driving safety of this classic vintage model.
The Mercedes Benz 220 S
The Mercedes Benz 220 S, also known as the W 180, is a classic car model manufactured by Daimler-Benz between 1954 and 1959. With its six-cylinder engine, the 220 S from the pontoon series belonged to the luxury class of that time. The MB 220 S was produced in the body versions sedan, coupé and cabriolet. From 1956 to 1959, a total of 55,279 vehicles were produced from the sedan. Only a few months after the first production of the limousine, the 220 S Cabriolet came onto the market. Shortly thereafter, the 220 S Coupé followed. A special feature of the Cabriolet is the first processing of a self-supporting body.
The kingpin set
The kingpin set enables you to restore your 220s kingpin. The steering knuckle is a wheel carrier that can be swivelled around an almost vertical axis during steering. The special feature here is that the outer, wheel-bearing parts are not fixed to the so-called rigid axle as was previously the case, but can now be swivelled.
The kingpin plays an important role in the mechanics of the MB 220 S. If it is loose, it can cause the wheel to flutter and the classic car to shift in the bend. This means that the vehicle drifts outwards in the bend. Since this is understandably dangerous, the kingpin must be replaced as quickly as possible in the event of a defect.
Buying the Mercedes-Benz 220 S kingpin set
With the axle kingpin set 220 S you can get a whole lot closer to repairing your classic car. Buy the kingpin piston set now conveniently in our online shop with practical delivery directly to your home. Discover also our other spare parts for the Mercedes-Benz 220 S and other Mercedes Benz classic car models in our online shop. If you have any questions about the "Kingpin bolt set 220 S", we will be happy to provide you with good advice.