Hubcap 300 Adenauer
Mercedes Benz Oldtimer spare parts
The Mercedes 300, which had the nickname "Adenauer", was the largest, strongest and also most exclusive car at its time of construction around 1957. It was already popular at that time, but even today it still belongs to the most sought-after classic cars. A genuine rarity is the Mercedes 300, if it has the original Mercedes star from plastic on the radiator hood and naturally the original wheel covers 300 Adenauer.
The wheelcap 300 Adenauer has the well-known Mercedes star very clearly visible. This car is in the overall picture an incredibly noble model and has caused a lot of sensation then as today. Above all with the striking wheel cap 300 Adenauer this Mercedes attracts all attention.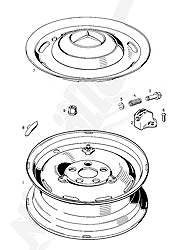 If you are or want to become the owner of a Mercedes 300 Adenauer, you should be aware of the rarity of spare parts. It is very difficult to get the original 300 Adenauer hubcap. It is offered in some auction houses, but it is not always clear whether it is really the original wheel cap 300 Adenauer. In this case only a real connoisseur can find out.
Another possibility to get the wheel cap 300 Adenauer is to contact Mercedes directly. With this possibility, however, you have to reckon with a real collector's price. After all, the wheel cap 300 Adenauer is a real relic from the good old days.
At Niemöller we offer you a solid and safe alternative. We sell Mercedes spare parts of every kind and from every imaginable year of manufacture. Here you can be guaranteed to get the original wheel cap 300 Adenauer. You will always find a contact person when it comes to the assembly of these hubcaps.
These cannot be compared with today's wheel trims and it takes a little skill and dexterity to fit the wheel trims 300 Adenauer to the valuable vintage model. After all, you don't want to scratch or damage the chrome wheel cap 300 Adenauer. These hubcaps are very difficult to maintain and clean, so you need some practice and the right tools. But also in this case you can let us advise you in detail.