Hubcap 190 SL
Mercedes Benz Oldtimer spare parts
Oldtimers are on the rise. So one sees preferably on weekends different models rolling over the roads in Germany, which often have a long history to tell.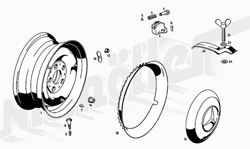 Older models from Mercedes-Benz are particularly popular. For many owners of a classic car it is of central importance that their "second living room" can shine in bright splendour. This is why many Mercedes classic cars have undergone extensive restoration. These include corresponding hubcaps. Hubcaps 190 sl are particularly in demand here. These perfect the appropriate Oldtimer and lend it the gloss of the old days. The value of the classic car also increases considerably due to hubcaps 190 sl, so that the classic car can be regarded as a crisis-proof investment.
We at Niemöller distribute all spare and wear parts of all Mercedes models worldwide. We pay special attention to the classic car models. We stock wheel trims for almost all current and historical Mercedes makes. Therefore the wheel cap 190 sl is also in our assortment. The hubcaps can be ordered comfortably at home at the usual shipping costs. Of course you can always contact us, for example to inform yourself about the current range of wheel trims or other wearing parts.