Mercedes vintage car spare parts
In Germany there are plenty of Mercedes Benz vintage car owners, who restore their favorite vehicle with passion. Also, ready-built vintage cars are often to be admired at exhibitions. In order to restore a Mercedes vintage car back into its original state you have to invest a lot of work and some money. To find and to look for suitable spare parts is not as simple as it seems. Thanks to Niemoeller this problem has been effectively countered.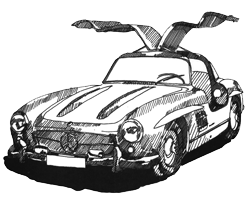 In our online shop you have the possibility to look for your desired vintage cars spare parts in different ways. For example you may choose between a price inquiry, a direct search in our online catalog, as well as a catalog order and a selection of a particular model.
Of course there is also a telephone service available to answer customer questions about spare parts, orders and order procedures. Our range of products from the online shop extends to more than 63000 spare parts for Mercedes vintage cars of 1946 to approx.1975. 28 construction patterns of this time were united into 6 catalogs and were made available to the customer.
Above all Niemoeller stands out due to having all spare parts ex stock. This assures a short delivery time to the customer. Besides, original prices from manufacturers are charged. Partly Niemoeller even manufactures spare parts itself.
Our company is located in Mannheim. About 20 employees are working here to answer and satisfy our numerous customer questions and wishes. At the same time we can already look back at over 20 years of company history.