Sun visor Mercedes Oldtimer 190 SL
perfectly protected
Car and driver need optimal sun protection. A car suffers enormously from too much sunlight. Especially new vehicles should keep their shine. While a shaded car park or a garage can prevent damage to the paintwork, passengers in the vehicle must find other forms of protection from the sun's rays. In order to protect the occupants of a vehicle from the sunshine, it is necessary a sun visor 190 sl.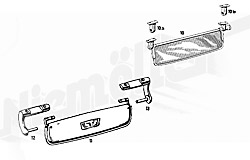 A 190 sl sun visor prevents glare when the brightness is too bright. Especially in strong winter sunshine in snow-covered landscapes or when sunlight is reflected on water surfaces, folding down the 190 sl sun visor is a blessing for the eyes, not only for the driver.
But in the car, babies and toddlers must also be protected from direct sunlight. It is just as unpleasant for the baby or toddler to be blinded as it is for an adult. It also gets much too hot without sun protection. A 190 sl sun visor is the remedy. This ideal shade is suitable for every car. They are available as sets for the side window or the rear window and are easy to attach. They are foldable and fit in any glove compartment. Some sun visor models not only offer protection in summer. They can also be used as frost protection in winter. These models can be attached to both the inner and outer panes with suction cups and guarantee good heat and frost protection.
If you are interested in such a sun visor, then you are with us exactly at the correct address. We offer this and many other spare parts for the Mercedes Benz 190 sl in our spare parts shop. So don't shy away from looking in on us. We will be glad to help you.