Sun visors 190 SL
Mercedes Benz Oldtimer spare parts
Sun protection not only for the car
Long gone are the days when you could only protect yourself from direct sunlight while driving with a special headgear and sunglasses, unless you get into a vintage car without sun visors once in a while 190 sl.
Whereas in earlier years it was primarily a matter of getting your vehicle to its destination at all, today a great deal of importance is attached to certain amenities, especially when driving a car to protect it from harmful UV rays. With a wide variety of models and materials, the interior of the vehicle and its occupants can be perfectly protected from the sun's rays. Sun visors 190 sl are manufactured from a wide variety of materials. The customer has the choice between 190 sl sun visors made of cardboard, textile fabric and fabric with coating, plain, coloured or printed with various motifs.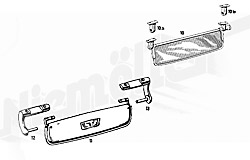 They protect the driver's compartment of the parked car from excessive heating in direct sunlight. The temperature of the seats, steering wheel and dashboard remains comfortable. It also prevents the seats from fading and keeps their original colour for a long time.
Of course, the driver must also protect himself/herself and his/her co-drivers from annoying and dazzling sunrays during the journey. Sun visors 190 sl are easy to fold down and thus provide quick relief. For passengers on the rear seat, 190 sl sun visors are used to provide shade in the form of foldable sets. These are only used when needed and are very popular with children, especially because of their imprint motifs from the Disney world. Especially small children with their still very sensitive skin need special protection from the heat - and who would like to be dazzled?
If you are now interested in the sun visors 190 sl, you can easily find them in our spare parts shop. We stock the Spare parts of the Mercedes 190 sl and sell them to enthusiasts, collectors and hobbyists who deal with this vehicle. If you have any questions, please do not hesitate to contact us.