Radiator fairing Ponton
Mercedes Benz Oldtimer spare parts
The "Ponton" models of the Mercedes series have today like at that time their charm. Today one hardly sees any differences between the cars of different manufacturers and the motto is minimalism. In contrast, the Ponton models, which have an individual shape and a special external design, stood or stand. In the course of this one should mention especially the radiator cowling Ponton. This was regarded as relatively narrow during the development, which is nowadays hardly understandable for car designers. The radiator grille alone occupied an enormous area at the front of the vehicle.

This type of radiator grille is no longer used today because everything has to be narrow, sporty or elegant. The radiator grille on the Ponton radiator fairing spoke for itself, the chrome bars were omitted, but that didn't really bother. It had a special and unusual effect on the observer. The pontoon with its unusual shape is today one of the classic cars and for this reason it is relatively difficult to get good spare parts.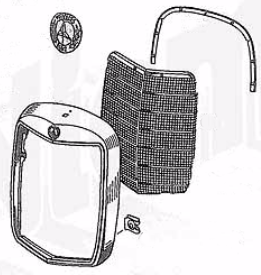 Still today many people love this model and are proud owners of a Ponton Mercedes. The restoration of these models is considered a hobby and a passion. It often takes years until the individual parts of a pontoon model are assembled and can be put together accordingly. Every detail, however small, is of utmost importance. For this reason, the Ponton radiator cowling in particular must be assembled with loving attention to detail. Thus the harmonious overall picture of the pontoon is restored.
The Mercedes star is unmistakable and sits on the pontoon radiator cowling. This makes it easy to see which vehicle it is. With much love and patience the pontoon generation is kept alive. So you can still admire this unique model today and see the changes of the years.
At classic car meetings, especially with pontoon models, the extreme radiator cowling Ponton is admired again and again. You like it or you don't like it. The Ponton radiator cowling is not available in regular shops today. We, the company Niemöller, distribute our spare parts also for pontoon models world-wide. Especially with the special pontoon models we are far ahead. So you can buy in our shop also the cooler fairing Ponton.