The radiator cowling Mercedes-Benz 220 S
"Even more valuable, but not more expensive"- with this slogan the inventors around Mercedes Benz chief designer Karl Wilfert introduced the new 220 S in 1956. The Mercedes Benz 220 S was the direct successor of the successful W 180 series and complemented its advantages with some technical and external details. In the following years, in addition to an "Economy" version in the form of the 219 S, a Cabriolet and a Coupé of the same series were to appear.
The model retained the characteristic 220 S radiator cowling of its predecessor and extended it with a continuous chrome trim that surrounds the entire car at the embossed bead. So that everyone could immediately see what a brand it was, the Mercedes Benz star was enthroned high up on the high 220 S radiator cowling.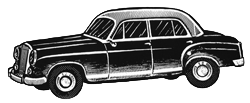 The radiator cowling elegantly closes the raised bonnet and gives the honeycomb grill a solid frame. Like bumpers, lamps and horns, the 220 S radiator cowling is chrome-plated to protect it from corrosion, but it also requires permanent care to prevent the chrome from getting tired. The front part of your car in particular offers a good surface for dirt and moisture to attack and is therefore prone to rust deposits.
Contrary to later developments, the radiator cowling of the so-called pontoon construction still bears the trademark and the star, which was placed directly on the bonnet of later models. For collectors and lovers of exquisite vintage cars, the radiator cowling 220 S thus moves into the focus of interest and therefore deserves special attention in the preparation and care of your car.
While the bumper and tail fin are adapted and reduced in the following models, Mercedes retains the radiator fairing 220 S also in the successors of the "Ponton" series and continues to rely on the proven mixture of clear forms, soft edges and a striking front. The 220 S models from 1957 onwards are characterised only by a modified license plate holder, which has no influence on the fit and removal of the 220 S radiator cowling. Particularly when restoring the radiator or other parts, the chrome parts of the fairing can be easily removed and can be accessed directly.
In case of such a restoration we at Niemöller are exactly the right Mercedes Oldtimer spare parts shop you need. Here you will find all the desired spare parts, especially the radiator cowling 220 S.